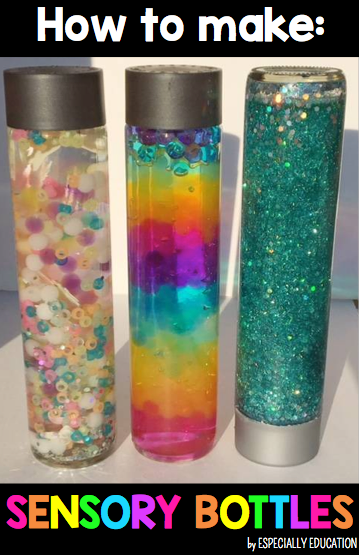 I've had lots of sensory bottle ideas floating around in my head for quite some time. Now, I'm not sure if I can stop making them.
These DIY calm down jars (as they are also known) are seriously addictive. Even more so since I made them in my three favorite colors: rainbow, glitter, and glow-in-the-dark.
I'll give you the step-by-step directions to make your own calm down sensory bottles, listing the materials, tips, and pros/cons.
I had foot surgery at the beginning of June, so it's been a pretty uneventful summer since. What better way to spend my time than immersing myself in preschool Pinterest projects?
First up: The Glitter Whirl-Swirl Sensory Bottle
The Glitter Sensory Bottle Ingredients:
• Water bottle (I used glass Voss bottles, basically because they are beautiful. You can use plastic, too)
• Steel wool (to remove Voss logo)
• Glitter (is there such thing as too much glitter?)
• Clear Elmer's glue
• Food coloring
• E6000 (to glue the lid shut: although I might use crazy glue on future projects)
• Warm water
To begin:
1.) Fill the bottle 3/4 of the way full with warm water
2.) Add clear Elmer's glue (I used one bottle, but wish I would have used a bit more. The more viscous your solution, the longer the glitter will suspend.)
3. Add glitter. Lots of glitter.
4. Squeeze a few drops of food coloring into the water.
5. Super glue the lid shut
Pros: Very mesmerizing qualities. You can never have too much glitter.
Cons: I found it a bit challenging to get the water:glue ratio just right.
The Rockin' Rainbow – Water Bead Calming Sensory Bottle
The Sensory Bottle With Water Bead Ingredients:
• Water bottle
• Jelly Beadz (assorted by color)
• Funnel
• Super glue
• Cold water
To begin:
1.) Sort your beads by color and put them into bowls (I made the mistake of waiting until they grew to marble-sized, slippery orbs before I sorted them. Needless to say, that decision quickly made it to the cons list).
2.) Add water and wait several hours until they are full-size
3.) Use a funnel to drop them into the bottle, layering the colors as you'd like
4.) Add water to fill
5.) Super glue the lid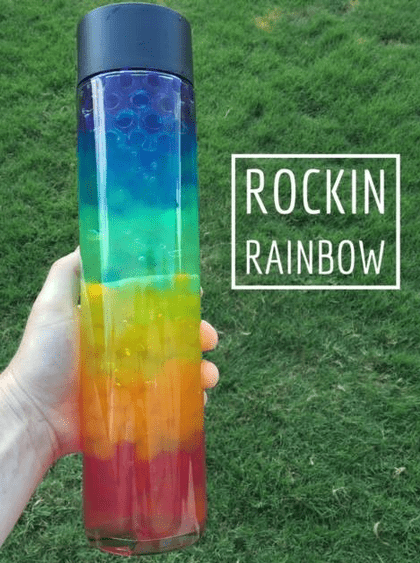 Pros: This bottle is absolutely beautiful! It is also super fun to plop the beads through the funnel. This would be a fun bottle to make with kids.
Cons: Sorting them by color can be tedious.
Also, I made my layers too big at first and could hardly fit all six colors in the bottle. Instead, I dumped them out and made my layers about an inch big and just repeated the pattern.
All That Glitters is Glow – Glow in the Dark Sensory Bottle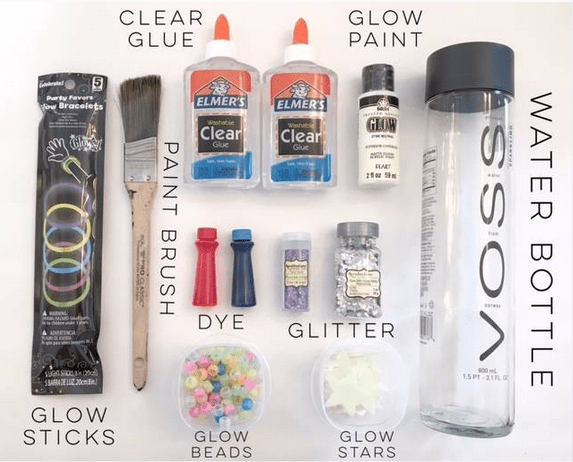 Materials:
• water bottle
• clear glue
• food dye
• glitter
• glow paint and brush
• glow everything: beads, stars, sticks, etc
To put it vaguely, this bottle was very trial and error.
To make:
1.) Splatter glow paint on the outside of the bottle (optional)
2.) Follow steps to make glitter sensory bottle
3.) Add glow items (I ended up adding a few water beads to mine, too)
Author's note: If I were to remake this bottle I would use clear hair gel instead of water/glue solution, nix the food dye, and then add my glow-in-the-dark items.
Pros: I love that this glows in the dark!
Cons: The water/glue solution was not very thick, and the beads and stars floated to the top immediately.
And there you have it! 3 easy, fun sensory bottles!
Are you on Instagram? Tag @especiallyeducation in your sensory bottle pictures!