Does the thought of visual schedules make your head spin? Are you tired of finding stray PECs scattered about the room? Then the Visual Schedule Flip Book and Token Board may be your solution! This post will walk you through the ins and outs of this visual schedule, providing tips and adaptations to meet the needs of every single student in your classroom!
---
Today's guest blogger, Braelan Martin, is a K-2 special education teacher. Braelan is passionate about instilling imagination and independence into her students. She knows by experience, first year and veteran teachers alike are always looking for ways to make their classroom engaging, fun, and welcoming. With limited resources and time, visual supports that are easy to create, implement, and adapt to meet each student's needs are hard to come by.
Braelan tells us how she came to rely on the flip book, token board, and picture icons in her classroom to easily create simple visual schedules, and shows you examples of how she and her students customize this tool to work for all kids and all abilities. Her YouTube video, "The Many Uses of Especially Education's Visual Schedule Flip Book," explains why schedules are important, and shows you how to set up the book.
---
Before I started my first year as a teacher in a self-contained classroom, I had visions of color coordination, independent students, and beautiful schedules.
In reality, my first day as a teacher was hectic, disorganized, and discouraging. It was also completely devoid of functional schedules, timers, and routines.
The next morning, I rushed to my classroom and proceeded to print and laminate generic schedules and Boardmaker pieces. These schedules were not individualized, colorful, or engaging. By the end of the second day in my new classroom all my schedules were ripped up and scattered all over the floor.
By the third day it was time for a change. After a quick search on Teachers Pay Teachers, I found a little product called the First Then Board & Visual Schedule Flip Book. This book along with a structured routine changed my classroom for the better.
The whole purpose of a visual schedule in a self-contained classroom is to individualize and personalize for EACH student.
Visual Schedules in The Classroom Can Support:
Student Independence
Language Development
Autonomy
Choice Making
Self-Regulation
Accountability
I knew my students needed to grow in their independence, choice making, and self-regulatory behavior and these books and icon pictures helped with that. I was able to edit and customize for different students.  It allowed me to combine my token boards and schedules into a compact book for some students, while providing just token boards for more socially and academically independent students.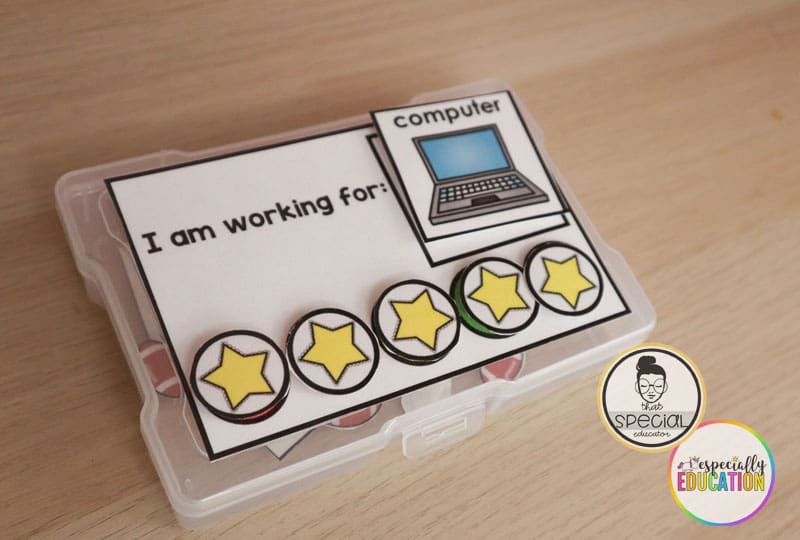 A few of my students even wanted to be part of the process, choosing to sit with me to select their page colors, fonts, and images. A few others needed to work up to the use of a book. With the use of cardboard or corrugated plastic, they use the large icons on a modified schedule board.
Some individual pieces were even used for additional visual and prompting supports through the classroom. I added them to a book ring and attached them to my lanyard, so they went with me everywhere!
After printing, laminating, and cutting I decided to take the time to bind it properly for durability. When binding, one might use a binding machine, a three ring-binder, or the professional binding machines at Staples or Office Depot.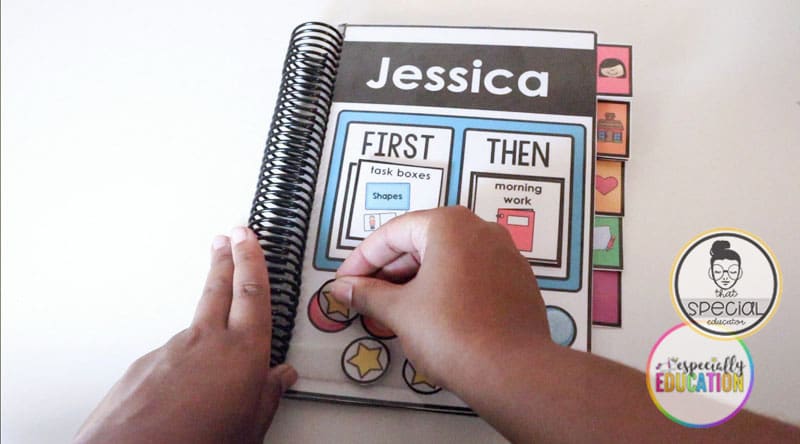 The effects were immediate. My students were proud to carry those books with them throughout the day. They took ownership of something, something that they felt helped them.
The greatest joy was to see those students take their schedules with them into the next grade and continue to work on their independence.
*Be sure to visit Braelan's YouTube channel, That Special Educator, which focuses on Special Education topics such as IEP writing, classroom setup, behavior management, and more.
Ever since I can remember, I've been drawn to people with special needs. It makes me happy to watch my students grow and progress with all their hard work. I truly believe I was put on this planet to work with these children.
If you've seen my posts recently, you may be thinking, "wow, Michaela sure has been posting a lot about her projects and activities! But why?"
Well, as a special education teacher in a self-contained classroom, I know how challenging it can be for my students to access the grade-level curriculum. Resources are limited and can require hours worth of accommodations and modifications.
The intention behind my TPT store is to provide teachers with adapted teaching materials that focus on the prerequisite skills needed to master grade-level standards and provide engaging, hands-on activities that make learning exciting and appropriate.