February is here! And while the Valentine's decor hit shelves in November, you may be struggling to come up with some fun V-Day activities.
Fear not! Here are a few of my favorite activities that promote friendship and kindness (because Valentine's day doesn't just have to be about pink, hearts, and chocolate!)
Okay, I take that back about the chocolate.
Friendship Treats
I am OBSESSED with this activity!  You can grab my free visual recipe here.
While these are essentially just a Rice Krispy Treats/Lucky Charms hybrid, I love that each shape symbolizes a different friendship trait. Of course, you can tailor the traits to meet the needs of your own classroom.
As we add each of the different marshmallows (and before each marshmallow had the chance to be eaten or licked), we discuss what each shape represents. The students list ways that they can portray each of the different friendship qualities in real life.
After our cooking lessons, I choose one or two students to pass out leftover treats to the office staff. This is a great way to practice our social skills outside of the classroom.
Read more about social skills and cooking in the classroom here.
Kind Words Flip-Book
When my students were passing treats out to the office staff, I noticed they struggled with some key responses. Example: responding to a teacher's "thank you" with a "thank you." While it is still a kind response, it's not necessarily the correct response.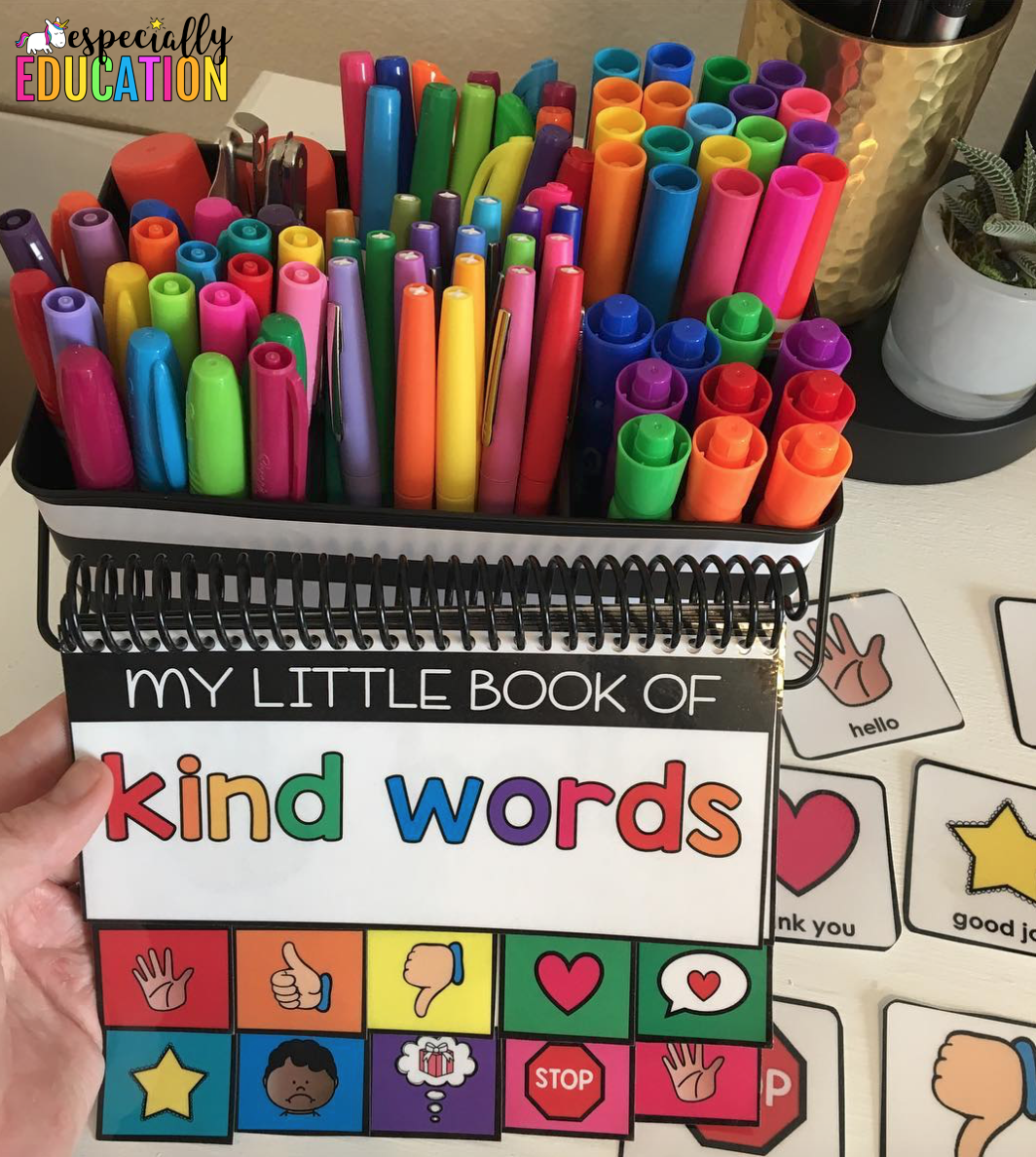 This flip-book is perfect for providing low-key visual prompts when practicing kind words. Now, when a student should be responding, "you're welcome," I discretely prompt them with the correct visual in the flip book. Watch video here to see all prompts.
Kindness Read-Alouds
Picture books are probably one of the greatest creations of all time. Even better when they promote powerful life-long messages. Here are a few read-alouds that help spread kindness.

The Last Stop on Market Street (or find read-aloud here)
Somebody Loves you Mr. Hatch  (or find read-aloud here)
Enemy Pie  (or find read-aloud here)
Stick and Stone (or find read-aloud here)
The Jelly Donut Difference  (or find read-aloud here)
The Berenstain Bears- Kindness Counts  (or find similar episode here)
Have You Filled a Bucket Today? (or find read-aloud here)
Kindness Notes
I made these free little love notes as a quick and easy way for teachers to reinforce kind behaviors. With 20 designs (both in color and black and white), these notes are perfect to hand out to students (and even staff!)
Watch video here to see all the designs.
I also have my free Kindness Kit which is being used in classrooms world wide. It's full of posters, banners, and other kind freebies.
I love how Teaching with Miss C has displayed these colorful posters in her classroom!

Miss Fairclough has this You Are Loved banner displayed in her colorful classroom to always remind students they are important.
"Kindness Rules" Hashtag
Some of my favorite SPED TPT seller's started the #KidnessRules hashtag on Teachers Pay Teachers. All items are FREE and are perfect for promoting kindness in the special education classrooms.
There are cut-and-paste activities, adapted journals, task cards, and MORE!
Additional Free Friendship/Kindness Resources
Being a Good Friend Social Story:  This free social story is perfect for teaching students how to be a good friend in the classroom!
Feelings Check-In Chart: Reinforce emotional vocabulary terms with this feeling check-in chart. Students learn to appropriately identify and convey their emotions with these visuals.
Kindness Challenge: This "kindness challenge" encourages student to participate in 28 days worth of kind acts. Students learn that kindness goes beyond just "please and thank you" with these various ways to show kindness.
What are your favorite ways to promote kindness in your classroom?