Looking for a way to organize independent work time for your special education classroom? Students gain more independent and personal responsibility skills with an organized Especially Education Task Box Independent Work Station. Read for ideas to organize task boxes for independent time or for work time.
---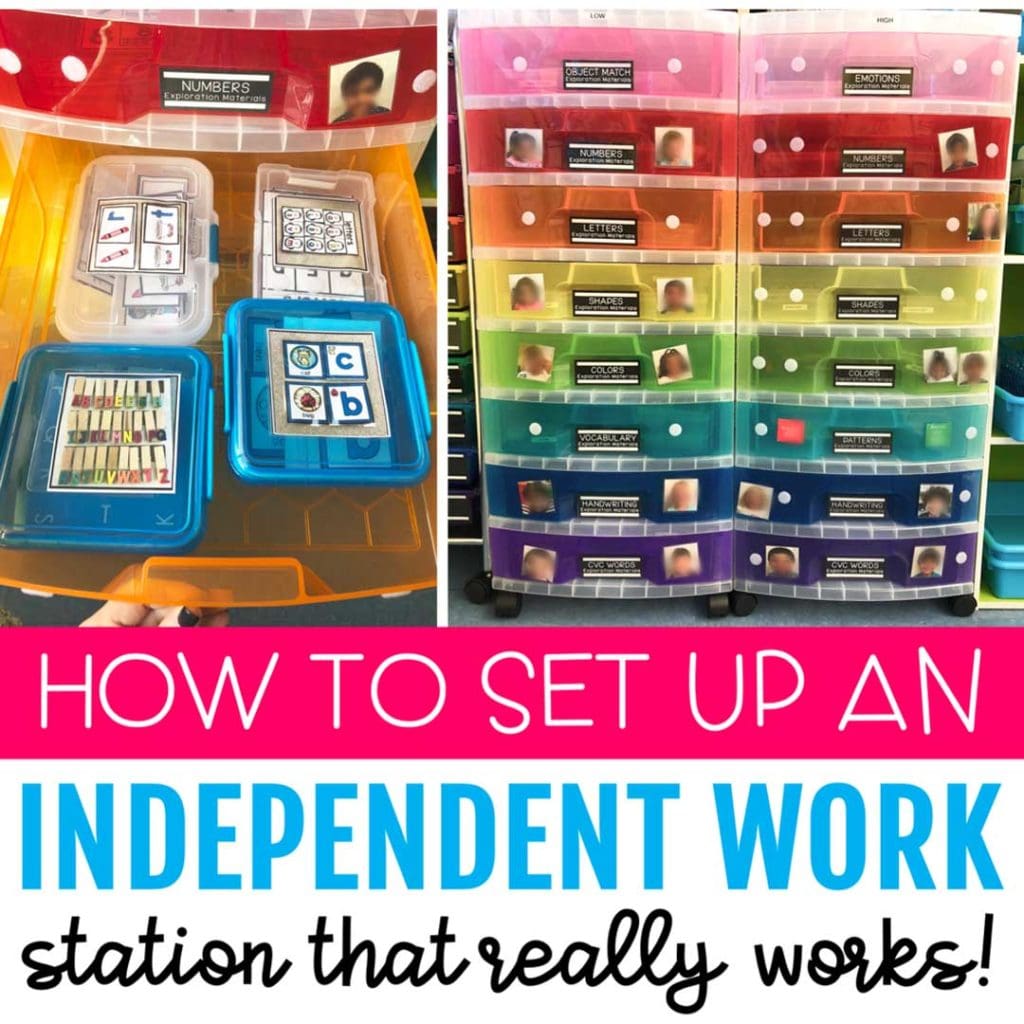 Today's guest blogger, Rachel Glassman, is a second year teacher in a preschool special education classroom. She works with students who are ages 3-5 with varying disabilities. Her students are at school for half of the day, so they are only with her for about 2 ½ – 3 hours a day.
---
I use task boxes from Especially Education and other small activities that fit in task boxes. Students independently work on the activity in their drawer and get a new one when they are done.
This half day format makes the day go by very quickly, so I try to fit as much activities and valuable work in as possible.
This summer, after my first year of teaching, I realized that my class schedule was missing something. We were missing a time when the students could work independently on tasks that they felt confident in and can master almost 100% of the time. A time where they can review the skills they already know, gain confidence and independence within the classroom, and practice asking for help if needed. This is when EXPLORATION time was born!
LOGISTICS
During exploration time my students have the ability to complete different activities that are assigned to them (their picture is on their respective drawer). I organize the drawers by subject areas or categories. My drawers are labeled as follows…
Object match
Numbers (high and low)
Letters (high and low)
Shapes (high and low)
Colors (high and low)
Vocabulary
Handwriting (high and low)
CVC words (high and low)
Emotions
I have 2 drawers for some categories so that I can level the activities. My students are all on different levels, so I want them to be able to complete activities that are just right for them.
The students know to come right to the exploration drawers right after unpacking. They take an activity from their respective drawer and take a tray (from the Target Dollar Spot during back to school time).
At their seat they complete the activity in their tray. The trays are mainly for spacing reasons. The trays help them stay in their own space and keep track of what pieces go to their activity.
After completing their first activity, the students undo the activity, put it back in its container, bring it back to their drawer, and get a new activity. Each drawer has anywhere from 4-10 activities depending on how many I can fit/how long each activity takes a student to complete!
The students continue this until the bell goes off (wireless doorbell, of course)! When the bell goes off, they undo their activity, put their activity away and put their tray away.
TEACHER BENEFITS
My favorite part about exploration time is the independence!!! The beginning of the day is always so hectic, so it was the perfect time to implement some independent time. At the beginning of the day we have students who need help unpacking, students strolling in late, students who are potty training and need to go right away, and students who just need some extra attention. SO being able to have the peace of mind knowing that my other students are completing their exploration work by themselves (basically) is very helpful.
STUDENT BENEFITS
My students LOVE being able to complete work on their OWN! Seeing them gain the confidence to complete their own activity is remarkable. I also think that they like having exploration time first, rather than going right into circle time or small group. A lot of students need transition time from home to school, so this exploration time gives them 10-15 minutes at the beginning of class to slowly transition into being at school.
Not only is this independent task box work station good for a special education classroom, this system can work in any type of classroom. Giving the students the opportunity to gain confidence and work on their independent work skills is something that every student would benefit from.
Visit Rachel on her Instagram